msu: 100% Smokefree campus
Minnesota State University's strengthened tobacco-free policy takes effect Aug. 1, just in time for when more students and faculty will be returning to campus amid a pandemic.The policy championed by the Mavericks for Clean Air Task Force expands on a 2012 ban on campus tobacco usage. After updating the policy to also prohibit e-cigarettes in 2017, the latest change includes stronger compliance rules, clearer definitions for tobacco products and makes more cessation programming available.
The moves recently earned the university the 100% smoke- and tobacco-free designation from the American Nonsmokers' Rights Foundation, which task force leader Mary Kramer said is especially relevant when a respiratory virus, COVID-19, is circulating in the community.
"We did document through staff, employee and student surveys that people were being exposed to secondhand smoke on campus," she said. "So we need to make sure we reduce that; we need to do what we can to make sure people aren't coughing or doing behaviors that spread the virus."
The task force's surveys from 2019 found 84% of students and 81% of employees reported being exposed to tobacco smoke on campus. The frequency of exposures ranged from rarely to sometimes to often to always.
Kramer, an assistant professor in MSU's health science department, worked with student research assistants on the new policy. Along with collecting hundreds of survey responses, the task force collected more than 1,000 cigarette butts on campus in April 2019 and organized an e-cigarette disposal day last fall.
The litter collection doubled as proof smoking was happening on campus, further confirming the survey results about secondhand smoke exposures. Hopefully strengthening the policy will make people more aware smoking isn't allowed so it becomes more self-enforceable, Kramer said.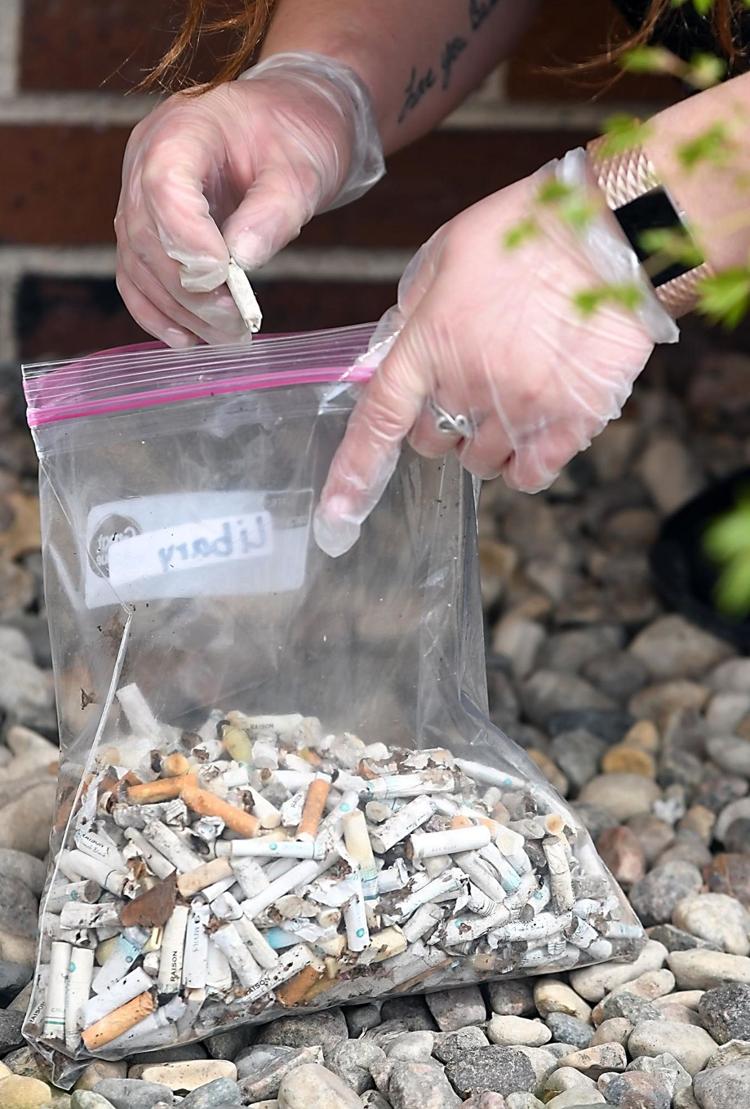 The task force's efforts drew praise from smoke-free advocacy organizations. MSU is now one of 2,490 higher-education institutions — 16 in Minnesota — meeting the criteria for 100% smoke-free campuses.
Liz Heimer, a health promotions specialist with the American Lung Association, called the achievement a great way to protect employee and student lungs during a pandemic. She cited data showing people who smoke are 2.4 times more at risk for severe complications from the virus compared to nonsmokers.
"Any condition that potentially affects the lungs such as smoking or vaping, regardless of the ingredients inhaled, could play a role in making someone more susceptible to complications from the disease," she said.
American Nonsmokers's Rights Foundation President and CEO Cynthia Hallett also applauded MSU's leadership in pushing for a stronger smoke-free policy.
"As MSU looks ahead to resuming on-campus instruction and operations, we know you will want to welcome students, faculty, staff, and visitors to a healthy campus environment," she said in a statement. "Eliminating secondhand smoke exposure is critical to reducing risk factors that make individuals vulnerable to the virus."
Knowing how addictive tobacco products are, Kramer also expressed the need for compassion toward students and faculty who do smoke. The surveys found between 48% to 61% of smokers attempted to quit at least once in the past year.
For smokers hoping to quit, free quit kits are available on campus as part of a grant from American Cancer Society. MSU received about 200 kits with resources shown to help limit cravings and withdrawals, Kramer said.
The task force will be monitoring how the policy impacts tobacco usage on campus over the coming years. Future surveys will be one indicator, along with whether the number of cigarette butts found on campus go down.
Not having to breathe smoke on campus will be a huge benefit, but the policy also could lead to cost savings if crews don't need to clean up so much cigarette and e-cigarette waste, Kramer said.
"We hope there will be almost none," she said. "It might take some time, so we will have to communicate this."